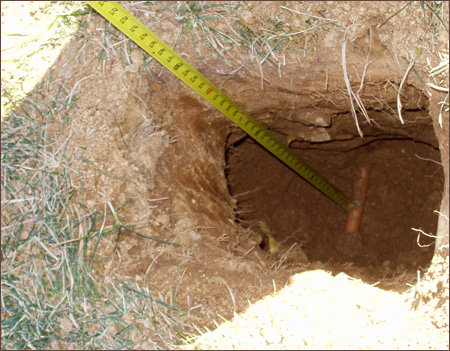 Recent Projects
CCS installed 56 ground beds in 2009, performed more than 30 cathodic surveys, along with numerous field repairs and smaller anode installations.  Most importantly, CCS experienced  no injuries or lost time accidents during this period.
Texas City, Texas –
Ground Bed Installation
Cathodic Control Systems, Inc (CCS) installed seven deep well ground beds and related appurtenances at a Facilities in Texas City, Texas.  Three groundbeds were located along a seawall inside the Port of Texas City.  In addition to being a secure transportation facility subject to Homeland Security Regulation, the area was also environmentally sensitive due to its proximity to the bay.  The project also involved replacing five rectifiers in the facility. These rectifiers required custom fabricated support stands due to their location in the facility.  Four groundbeds were located inside the operating tank farm facility.  CCS coordinated with other contractors working in the facility to ensure a safe working environment.  Hydro – excavation was utilized to prevent damage to underground utilities and ensure no disruptions to ongoing site operations occurred.  CCS provided all turnkey services for this project.
Bay City, Texas  –
Ground Bed Design and Installation
CCS was contacted to investigate an area of low readings on a recently acquired pipeline near Bay City, Texas.   CCS reviewed past operational data, conducted a field investigation and developed a design for two independent ground bed installations to provide cathodic protection to the pipeline.  CCS provided turn-key installation and system commissioning. 
Livingston, Texas –
Conventional Ground Bed Installation
CCS installed a 24 anode ground bed in an operating gas plant.  Due to the high resistivity of the local soils, the anodes were required to be widely spaced along and between operating equipment.  CCS value engineered the original design to ensure better system performance and reduce construction costs.  Approximately 1500 linear feet of trenching and all anode boreholes were completed using hydro-excavation equipment.  Although approximately 17 underground utilities – ranging from ground cables to duct banks to unmarked pipelines were discovered, the hydro-excavation prevented any damage to existing items – ensuring no operational disruptions to the facility. 
Flatonia, Texas –
Ground Bed Installations
CCS installed two ground beds near Flatonia, Texas.  These ground beds are unique in that the company's policy requires that all drill cuttings and drilling fluid be collected, sampled, and disposed of in a TCEQ certified landfill.  CCS provided a turn key project from permitting to final disposal.